(Last update : July 2023)
MOST OF THE PHOTOS OF THIS SITE ARE DATED LATER THAN MID 2004. OTHERS (NON DIGITAL) PRIOR TO MID 2004 ARE GRADUALLY ADDED AFTER DIGITALIZATION.
As a prelude : some thoughts :
TRAVELING IS THE ONLY THING THAT MAKES YOU RICHER WHEN YOU BUY IT ....
TRAVEL TEACHES MORE THAN ANYTHING. SOMETIMES ONE DAY SPENT IN OTHER PLACES GIVES MORE THAN TEN YEARS OF LIVING AT HOME (ANATOLE FRANCE) ...
TRAVEL BRINGS US BACK TO OURSELVES (ALBERT CAMUS) ...
A JOURNEY IS A KIND OF DOOR THROUGH WHICH WE GO OUT OF THE KNOWN REALITY TO REENTER AN UNEXPLORED REALITY THAT SEEMS A DREAM (MAUPASSANT)...
I have always loved traveling.
I graduated from Centrale (one of the top engineering schools in France), from MIT (International finance MBA) and from Sorbonne (PhD Economics). Then I held finance jobs for most of my career. My best working years were for Total, a major oil company, this giving me opportunities to travel abroad quite a lot and even to live abroad (I was assigned during 4 years in Jakarta). I later worked for real estate companies.
My first truly exceptional trip was the one I did in Zanskar, a remote Himalayan kingdom (belonging to India) in 1977 when it was opened for the first time to foreigners. This was a true adventure, meeting an authentic Tibetan culture & the local king and crossing high passes across the Himalayas, from Zanskar to Ladakh, on then unchartered trails.
My interests for traveling are quite eclectic : discovering other ways of living, old cultures, festivals, volcanoes, wildlife, museums...
When I go somewhere, I try to cover the region I visit as extensively as I can, often off roads, if possible by trekking.
I have a special interest in :

Places and peoples that are still authentic
Top on my past travels in this respect include : Zanskar (in 1977 & in winter 2005 Tchadar : a trek on frozen Zanskar river); Papua, in Indonesia (Danis, a 'stone age' papou tribe whose men wear only a penis gourd, in 1976); Papua Niugini (a fabulous country with 'primitive' tribes and an awesome yearly 'Sing Sing' – annual gathering of tribes - in 1982); Papua in Indonesia again (Korowais – another 'stone age' tribe building houses on top of trees - in 2002); Bhutan (in 1989 & 2015); Nias Island (off Sumatra, in 1978); Mustang & Dolpo, two Himalayan regions with a strong Tibetan culture, in Nepal (1993 & 2004); Russian Arctic (sharing life with the Nenets, a reindeer herders people, in 2008); Omo Valley in Ethiopia with its many tribes (in 1990); Namibia (with Himba ethnic group, in 1988); Mongolia (with the Tsaatan, a vanishing nomadic people, in 2007); South Sudan and its still authentic ethnic groups (Toposas, Mundaris ..., in 2020).
Remote places
Among others : Antarctica (twice by icebreaker : first time : half circumnavigation along the Peninsula and in Ross Sea, second time : South Georgia, South Sandwich & Weddell sea), Geographic South Pole, Geographic North Pole (aboard a nuclear icebreaker), Peter 1st Island, South Orkneys Islands, Bouvetøya, Crozet & Kerguelen archipelagos, Amsterdam a& St Paul islands, Pitcairn and its archipelago (Henderson, Ducie), St Helena Island (twice ; where Napoleon was kept prisoner by the British...), Ascension Island (twice), Franz Josef Islands, Wrangel Island, Ellesmere Island, Iles Eparses (Europa, Juan de Nova, Glorieuse, Tromelin), Wake Island, Clipperton (a remote French uninhabited atoll in Northeastern Pacific), Kanton (an atoll in the Phoenix Islands, Kiribati), Spratly Islands (Layang-Layang ; claimed by Malaysia, China, Taïwan, Vietnam & the Philippines), the Chagos archipelago (BIOT) ...
Difficult places to reach or geopolitically interesting
Albania during the communist dictatorship, North Korea (twice, 2nd time for Kim il Sung's 100th birth anniversary celebrations), Turkmenistan under Nyazov's dictatorship, Iraq under Saddam Hussein's rule between the two Gulf wars, Iraqi Kurdistan in 2018, Saudi Arabia in 1996.
I am quite interested in geopolitics ; I went to Berlin when the wall fell in November 1989, in Moscow for last communist May 1st celebrations in1989, in Rumania during the winter when Ceaucescu's regime was toppled down. Also, even 'risky' countries : Afghanistan (2019), Somalia (2019), South Sudan (2020). I went also to Marquetalia (the FARC stronghold in the Andes in Colombia, 2020, an exceptional trip organized thru the FARC themselves), Yemen (1979, 1988, Socotra in 2022). …
Mountains, deserts … especially whenever trekking
My top places covered are : Zanskar (in summer, my first trek), Everest Base Camp, Makalu Base Camp, Manaslu Base Camp, Kangchenjunga Base Camps (both Sikkim & Nepal sides), Ganesh Himal Base Camp, Mustang, Langtang, Dolpo, Kailash 'khora' (Tibet), 'Tchadar' (Zanskar in winter), K2 Base Camp (Xinjiang side & Pakistani side), Nanda Devi Base Camps (South & East), Cordilleras Blanca & Huayhuash (Peru), Kilimandjaro (summit), Mount Kenya (Peak Lenana & Summit Circuit), Rwenzori (DRC), Mont Blanc, Mt Kinabalu (Borneo), White Desert in Egypt, Badain Jaran in China ...
Volcanoes
I am a great fan of volcanoes ! I have climbed some 101 volcanoes (most of them active & most of them by foot) all over the world : in Indonesia (all of Java, plus many outside of Java), in Italy (Etna), in Central America, in Chile, in Vanuatu, in Ethiopia (the awesome Erta Ale -twice- & Dallol), in Kenya (Lengai, a very specic volcano with "cold chocolate " lava), in Kamtchatka, in Japan …
Carnivals
Every year, I try to see one or several carnivals. I love that ! Among others :
- in South America (Rio, Oruro, Barranquilla),
- in the Caribbean (La Vega & Santiago in Dominican Republic; Jacmel, Port-au-Prince in Haiti, Trinidad …),
- in North America (New Orleans),
- in Europe :Belgium (Binche, Malmédy, Eupen, Aalst, Stavelot, La Louvière …), Hungary (Busójárás), Netherlands (Maastricht), Italy (Venice, Viareggio, Oristano, carnivals in the Alps such as Tramin), Switzerland (Basel, Evolène, Luzern, Schwytz, Wyler ...), Germany (Köln, Rottweil, Offenburg, Wolfach, Villingen, Elzach with every 7 yrs Burgerreiten, ...), France (Dunkerque, Limoux, Cournonterral - very wild !-, Pézenas ...), Slovenia (Ptuj), Austria (Nassereith, Telfs, Ebensee), Spain (Lanz, Cadiz, Tenerife),
- in Africa : Cabo Verde (Mindelo).


Traditional festivals & rituals
Among others :
- in Europe : Belgium (Fête des chats in Ypres, Holy Week in Lessines, Lumeçon in Mons, Fête de Saint Roch in Thuin ...) ; France (Holy Week in Corsica, La Sanch in Perpignan, Giants Festival in Douai ..;) ; Germany (Nikolospiel in Bad Mitterndorf, Easter in Bautzen) ; Italy (Holy Week in Taranto, Madonna che Scappa in Sulmona, many places in Sicily for Holy Week, Snake festival in Cocullo) ; Spain (Fallas in Valencia, Semana Santa in Sevilla, in Lorca, in Murcia, in Zamora & Bercianos de Aliste, the 'castells' -human towers- in Catalunya) ; Switzerland (Beromünster, end of year in Urnasch, Fire chariots in Liestal), in United Kingdom (Beltane fire festival),
- in Asia : Bhutan (tsechus) ; India (Hornbill festival …) ; Indonesia (Pesola in Sumba Island, Karapan Sapi ...) ; Japan (matsuris in Aomori, Osaka, Kochi & many other places, a great country for festivals !) ; Mongolia (Naadam, 1000 camels festival) ; Nepal (Indra Jatha ; Sri Lanka (Perahera in Kandy),
- in Africa : Ethiopia (Timkat in Lalibela) ; Niger (Guerewol, an amazing ritual courtship competition)
- in Americas : Peru (ritual of yearly reconstruction of the Q'eswachaca Inca bridge, the Qoylluri'ti - largest pilgrimage in Latin America with strong Inca influences -, the Inti Raymi ...) ...


I have visited some countries many times
Aside Indonesia where I lived during 4 years, the USA where I completed my studies and of course the European Union countries which are close to France (Spain, Benelux, Germany, Italy, Switzerland), the independent countries where I went more than twice are :
- in Asia : China (including Tibet) (14x), Nepal (13x), India (13x), UAE (12x), Singapore (7x), Thailand (6x), Japan (5x), Malaysia (5x), Russia (Asian) (4x), Myanmar (4x); Yemen (3x), Mongolia (3x), Hong Kong (3x), Vietnam (3x) ;
- in the Americas : Argentina (14x), Canada (10x), Chili (9x), Brazil (7x), Peru (5x), Colombia (4x) ;
- in Africa : Egypt (4x), Ethiopia (4x), Namibia (3x), Tanzania (3x), SAR (3x) ;
- Australia (3x)
- in Europe : United Kingdom (18x), Russia (European) (8x), Poland (7x), Norway (7x), Bosnia (3x), Czech Republic (4x), Greece (4x), Sweden (4x), Hungary (3x), Finland (3x).
Aside independent countries, I have also been more than twice in the following "geographical entities" : the Arctic (incl. Wrangel Island & Northern Siberia, Northwest Passage, Nunavut, Greenland, Svalbard, Franz Josef Land, North Pole) (8x), France in the Pacific (incl. Clipperton, French Polynesia, New Caledonia, Wallis & Futuna) (6x), France in America & Caribbean (incl. St Pierre et Miquelon, Guadeloupe, Martinique, St Martin, St Barth & Guyane Française) (6x), Antarctica & Subantarctic (4x), USA in the Pacific (incl. Guam, Wake, Hawai, Samoa) (4x), France in the Indian Ocean (3x), New Guinea (Papua Niugini & Papua province in Indonesia) (3x).



My favourite countries are :
Europe : Italy & Spain ; in Asia : Nepal & Japan ; in Africa : Ethiopia & Namibia ; in the Americas : Peru & Chile


My "extreme" points" are

:
The South Pole, the North pole,
The top of main Europe, aside Caucasus (Mont Blanc), the top of Africa (Kilimandjaro), Base Camp of Everest (as well as all the eight-thousanders base camps, with the exception of Shishapangma & Gasherbrum base camps),
the remotest uninhabited island in the world (Bouvetøya), the remotest inhabited island in the Pacific (Pitcairn), the remotest inhabited archipelago in the world (Tristan da Cunha archipelago), some very remote islands (Kerguelen, Iles Eparses, Peter 1st island, South Sandwich islands ..),
my farthest point south reached by sea : Halley Base, at the bottom of Weddell sea in Antarctica,
the closest land from the intersection of Equator & Greenwich Meridian (Rolas island, in São Tome e Principe),
the coldest inhabited spot in the world (Oymyakon, in Yakoutia), the hottest spot in the world (Dallol, in Ethiopia), the most rainy spot (Cherrapunji, in India) …
Interviews and articles
Ulysse (2011)
)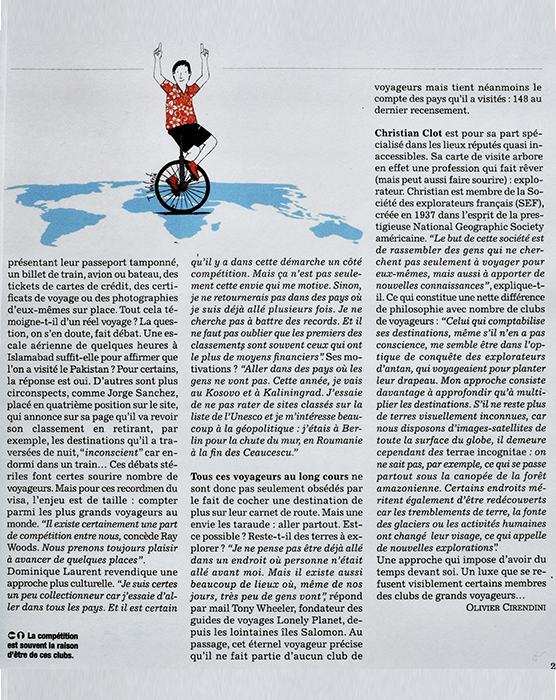 Le Monde
Read : My interview in the newspaper "Le Monde".
Nomadmania (2015)
https://nomadmania.com/interviews/19
Q: Dominique, tell us something about yourself.
I was born near Lyon in 1951 and started my studies there, then in Paris, and then I had two years in the United States before returning to start my job in France, primarily in the oil industry. I first travelled with my parents, who would always take us on holiday to different places in Europe – that is what first gave me an interest in travel. When I was in the United States, I travelled to Canada and Alaska; once I got back to Europe, I started longer trips during my holidays, the first being Thailand and then Nepal. My first real expedition, a trek of four weeks, was to Zanskar in Ladakh in 1977. I was one of the very first Europeans to be there – a place where there were no maps, and the trail was unknown. I have also lived in Indonesia for four years, which gave me a great opportunity to discover this country in more depth, and I developed one of my travel areas of interest, volcanos.
Q: Volcanos?
Yes, I am very fond of extremes, such as deserts and open oceans, but also volcanos, where you can see the strength of nature and admire the scenery. The most impressive volcano I have been to is in the Danakhil depression in Ethiopia, one of the hottest places on earth. It is one of the few volcanos with a permanent lava lake. The first time I went there from Djibouti on a 4X4, once you arrive there is a hike which doesn't take long, maybe five hours of so, until you go up. There is another volcano in the area called Dallol, but when I went the first time it was closed because of its proximity to Eritrea, so I had to go again.
Q: What other travel interests do you have apart from volcanos?
I really like festivals and carnivals. Not so much the modern festivals such as music festivals but the ones that truly show the traditions and the history of a place. In Indonesia I was at the Sumba festival which is not all that known. I have been to most of the major festivals in Europe, especially Switzerland has many of the type. The Ivrea festival in Italy is especially interesting but I think the best one was the carnival in the Dominican Republic, that was truly amazing.
I also take a great interest in older ways of living, I could call them 'primitive' perhaps… I chase such ways of living. I spent a week with the Nenets people in northern Russia. This was a group trip and we went to a town called Salekhard in the Far north and drove out from there until we got to a traditional camp, if you can call it that. The people live in huge tents and while it is -20 outside, inside it is very warm because they have a big stove in the centre of the huge tent. The people are herders of reindeer and live entirely as nomads within nature, but already this way of life is threatened. I remember the 16-year-old daughter of the family where I was staying, though she knew how to raise reindeer, already she wanted a more modern way of life and didn't intend to stay there with her family. In Mongolia, I stayed with the Tsa-tan, who now only number a few hundred and who are probably related to American Indians. I have also spent time with the Korowai tribe in Papua in Indonesia – these are people who live in trees. Also in Papua, in 1977 I visited the Dani people in the Baliem Valley, who wore the 'koteka', at the time they knew very little about modern clothing and life. I don't mind at all living with these inhabitants and understanding their unique ways of life.
Q: So, you don't mind hiking long distances to discover these tribes and volcanos?
No, quite the contrary. In fact hiking is one of my interests in terms of doing the Himalayas. I have been to Nepal twelve times and every time do major treks to many peaks there. My dream would be to do all the peaks above 8000 meters in Nepal and Pakistan. I usually walk quite slowly, and prefer to do such trails alone or with friends, with a guide, rather than with a group. In this way, if there is a monastery on the way, I can take my time to explore it rather than rushing to follow the rest of the group. And, as I already said, I am attracted to extreme points, so I have hiked to the top of Kilimanjaro, the highest point in Africa. I have also been to both the North and the South Pole, as well as Pitcairn – I am very proud of Pitcairn. Also I have been to the coldest place on earth (Omiyakon in Russia) and the hottest place on earth, in Danakhil which I mentioned before.
Q: Can you identify some favourite countries?
Nepal is my favourite. I also really like Japan because the culture there is very profound even though it is a modern country. The constant 'fight' between modernity and tradition is interesting to observe, and the people are very polite and respectful as well. I also like Italy and Spain because of the quantity of historical things to see.
Q: Do you consider yourself a typical Frenchman?
No, not at all. I consider myself a citizen of the world. I like to turn towards other cultures and end up spending very little time in France nowadays.
Q: Does that mean you travel constantly?
I would say I travel for around 9 months in the year now. I took the decision to retire before retirement age. This was not the easiest of decisions, but in the end travelling is what I enjoy and I prefer spending time doing that than earning more money. I still have travel aims, I would like to complete the United Nations list where I have around twenty countries left, most of them in the Pacific where I have only done half the countries.
Q: What are your travel plans for the rest of the year?
I've just come back from Slovakia. Next I am going to the re-enactment of Waterloo in Belgium, which celebrates the 200 years since the battle. I am then going to Fiji for a month. I have never been there, and though initially I thought of combining it with some other countries like Tonga, I realised that there is no time to do all that in one month, Fiji has so much to see. Then I will go to Bhutan to do the Eastern part of the country; when I first visited in 1989, this was closed, so now is the chance to see it, and my main reason is to do the Snowman trek which is quite a mythical trek. It is a long trek, goes through many passes and is known as the best in Bhutan – I have to check that! Toward the end of the year I will go with a friend to Nagaland, Mizoram, Meghalaya and Tripura in India. This will be a chance to attend a unique tribal festival of the Naga tribe.
Q: If you could invite four people to an imaginary dinner, who would they be?
Marco Polo, Magellan, Napoleon and Einstein. The choices are probably self-explanatory.